Why Does Your RV Circuit Breaker Trip? See Possible Reasons Below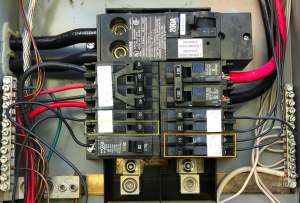 The receptacles in the RV are protected by a circuit breaker and/or the GFCI system. Hair dryers, curling irons, toasters, coffee makers, etc. use a very high amount of electricity (amperage). Each circuit is rated at 15 amps. Typically, any combination of two of these types of accessories will draw more than 15 amps which will cause the breaker to trip. It may be necessary to operate only one of these types of accessories at a time.
This section gives you running amps on components that are commonly used in Recreational Vehicles. Amperages may vary, check your individual products for exact amperage.
COMPONENT (AMP DRAW)
Microwave (15 amp)
Four-Slice Toaster (15 amp)
Hair Dryer (12.5 amp)
Water Heater on Electric (11.6 amp)
Vacuum Cleaner (11 amp)
Griddle (10.8 amp)
13.5k Air Conditioner (10 amp)
Two-Slice Toaster (7.5 amp)
Coffee Maker (7.5 amp)
Printer (7.1 amp)
Refrigerator (5.5 amp)
19″ LCD TV (2.5 amp)
Computer (1.7 amp)
Flat Iron (1.4 amp)
X-Box 360 (1.4 amp)
Laptop (0.75 amp)
Curling Iron (0.7 amp)
DVD Player = 70 watts (0.6 amp)
X-Box (0.6 amp)
Satellite Receiver (0.5 amp)
Play Station 2 (0.25 amp)
LED Alarm Clock (0.2 amp)