How to stay warm and dry while camping in cold weather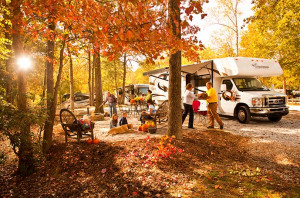 Layer up on clothing for fall camping
And, layer down. The unpredictability of fall weather means packing heavier clothing, as well as lighter clothing. Be prepared to dress for comfort rather than for style while camping in cold weather.
Let's briefly go through the various recommended layers starting with the base layer, which is an article of clothing, such as a thin long sleeve, that is in direct contact with your skin. Make sure it's snug and allows for easy movement.
Then, your mid layer insulation, such as a sweater, keeps your body heat in. Lastly, your outer lawyer protects you from the elements in cold weather and can include a windbreaker jacket.
Pack the right supplies to stay dry  
Other than the fluctuation in temperatures, fall is the start of rain season in some parts of Canada, so pack your dry gear, too. Rainproof pants, rainproof jacket, proper headwear, and waterproof boots are a great start to enjoying a fall camping trip. Extra pairs of warm socks, and back-up shoes or boots are perfect for ensuring you are prepared for anything.
Other than clothing, you'll want enough firewood and tarps to keep you warm and dry. Tarps are key to keeping your campsite dry, so find a campsite within trees where you can easily hang several tarps to cover your tenting and eating areas. Staying dry means staying warm in cold weather.
Stay warm in your tent while fall camping
Within your tent, carpets and rugs not only give a cozy feeling, but they also provide that extra insulation from cold weather. And, once you are tucked in for the night, a mummy sleeping bag is ideal as it comes with a hood to cover your head and keep your body heat within. A sleeping bag may not be as effective unless you have a sleeping pad underneath, so make sure you pack a sleeping pad to keep your body one step away from the cold of the earth.
Some extra warmth can come from a hot water bottle, so pack one of those to snuggle with, along with something to heat your water. Including heat  packs on your packing list will give you opportunities to throw them in your sleeping bag or under clothing for extra warm comfort in cold weather.
Eat foods that are best for cold days
It may seem obvious that packing warm meals are best for cold weather, but what is an easy-to-pack warm meal to eat while fall camping? Hot chocolate is a given as a drink, and also recommended is a Campertunity favourite: shish kababs. With an easy to make recipe, just add pieces of beef and / or vegetables to a skewer and let it cook.
Other easy, warm meals include baked brown beans served in hot dog buns, campfire pizza, and hearty stews and chilis. For stew ingredients, we recommend fresh local vegetables for an added healthy touch. Keeping your food recipes simple is the best plan, considering you'll be packing more gear for fall camping weather.
Getting outdoors in any season is possible, especially when following the various tips for camping in cold weather. Packing the right gear, eating the right foods, and enjoying the beauty of nature will make anyone fall in love with fall camping.